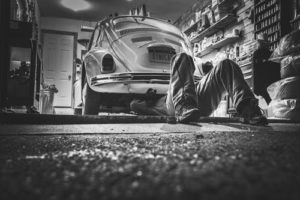 Cars are great. We love our cars. That is, until they break down or need a repair. Then, we have to go through the hassle of trying to find a great auto repair shop that will provide exceptional customer service. All this while not breaking the bank! It can be one of the greatest challenges car owners face, and there's no way around it. At some point, we all need work done on our vehicles, even if it's just for regular maintenance.
The question then becomes, how do you recognize a quality shop? There are all kinds of questions you can ask, but here's our list of five important things to look for.
Top 5 tips for identifying a great auto repair shop
Do they specialize in a variety of car brands? Checking the shop's website will help you know what vehicle makes they service. It'll also help you narrow down the shops that will meet your needs. Additionally, it will give you a good idea on how up-to-date their service is. Independent shops that serve multiple brands indicate that they have the latest equipment and training.
Check for certifications. A great auto repair shop will hire mechanics with a strong knowledge and demonstrate a willingness to help their employees improve their skills. Look for certifications like the one mechanics can get from the National Institute for Automotive Service Excellence (ASE).
Research complaints. You can also do a quick search on the Better Business Bureau website to check for complaints. The last thing you want to do is take your vehicle to a shop that doesn't get high customer ratings.
Do an observational sweep. Auto shops that value their customers and have good service pour that care into their shops. They want to show you, from the first impression, that they are worthy of your business. So, ask yourself some questions about what you see. Is the parking lot neat? Is the shop clean? Are the posters, displays, and other signs current and put together? Is their welcoming area friendly and bright? When you glimpse the service bay is it tidy? Are the mechanics' uniforms well-kept? All of these small details say a lot about the time and energy they are going to invest in your vehicle, because it is reflected in their shop.
Do a communication assessment. Like most things, good communication is one of the biggest tells when it comes to finding a great auto repair shop. An ideal shop will take the time to answer your questions and explain things to you in a way that is understandable and professional. They'll also keep you up-to-date on your car's progress and timeline for completion, as well as go over pricing with you. If the shop you're looking at doesn't communicate well, then it isn't the shop for you!
If you stick to these five suggestions, you can rest assured that you have found a wonderful repair shop and move forward with confidence on your car's maintenance or repairs.
How NARPRO can help you find the best repair shop
At NARPRO, we take finding you the quality shop you deserve very seriously.  We find shops that embody these five markers, and we also do a rigorous 26 point test that looks for quality, integrity, and customer satisfaction. Our shops must maintain these standards to be part of the NARPRO family. We guarantee that if you use one of our shops, you will be in the very best hands.