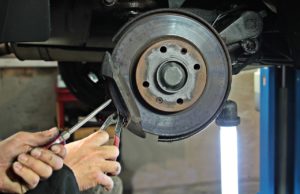 Just like a good doctor, a good partner, a good boss or a good significant other, finding someone you're able to work with well and communicate with is vital to making sure everything goes smoothly. The same goes for your mechanic. Finding a trusted repair shop can seem like quite the difficult task; between researching reasonable prices, excellent customer service, quality parts and appropriate automotive certifications, it can seem impossible. Whether or not you've had negative experiences with your repair shops, using a NARPRO recommended auto repair shop means you'll get everything you need.  It is all about TRUST.
Let the Video Speak for Itself
We were recently featured in a video with Danielle Williams and The Arizona Daily Mix. We wanted to explain how we can help you find a good mechanic. Worried about how you're going to be treated? You're looking for someone you can TRUST when your luck gets bad with your vehicle. It's a stressful time.
Think about these things before you go:
With vehicles getting more and more complicated, make sure the shop is equipped to actual provide the services your vehicle needs.
Try to find one of the 15 NARPRO shops across the valley, which are experts on auto repair. They have been pre-screened for you. We did the work, now you just have to get your vehicle in!
Check out the certifications of the auto repair shop; this will tell you a lot about their education, knowledge and training.
Ask questions and explain what you can. Now sure what the shop is explaining to you? Ask them to explain it to you. Don't agree to a repair that you don't understand.
Look for a shop that is clean, tidy and well taken care of – this will mean they will take care of your vehicle with care too.
Customer service (greetings and friendly personnel) matters.
Try to find this trusted repair shop before you need a major repair. Meet mechanics for oil changes or minor routine services, not major auto repairs.
NARPRO Shops are the Best Shops
Reduce stress in an otherwise stressful situation; using a NARPRO recommended shops takes away the work of finding out IF you can trust the shop and instead, being able to see that you CAN trust them. From small routine services to major repairs, check out our video and learn just how we can help. Happy Holidays from all of us here at NARPRO!