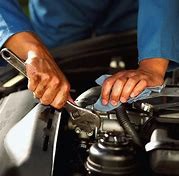 Here at NARPRO, we are privileged to work with some of the best auto repair shops and auto mechanics in the business. Being an auto mechanic is a fulfilling and rewarding career path. While becoming a Master Technician is a long term goal, you can easily get started and be a highly qualified professional in 1-5 years. Here's how!
Get Educated
Develop Skills while gaining Knowledge and Experience
Get Licensed and Certified
Let's Talk Automotive Education
You need a minimum of a high school diploma or equivalent to become an Auto Mechanic. If you are still in high school, be sure to take advantage of electronic and math classes. You may also want to consider getting an Associate's Degree. Earning an Associate's Degree in a relevant field will make you more marketable and will oftentimes help you climb that corporate ladder. Many Associate's Degree programs can also help you find an interesting focus. Some suggested field of study are:
Automotive Mechanics Technology
Automotive Service Management
Alternative Fueled and Hybrid Vehicles
Advanced Transmission Diagnostics
Auto Mechanics Training Programs
There are a ton of benefits to completing a training or vocational program. These programs will give you a solid understanding of the function and maintenance of various vehicles and their systems. Most programs include both lecture and hands-on experience. Courses in a training program should cover everything from engines, suspensions, and transmissions to brakes, A/C, and heating. You should thoroughly research the program you are interested in and look for programs that emphasize learning the tools and technology used in an auto repair shop and cover things like an Automotive Electrical Fundamentals and Fuel/Emissions Systems. Here are some programs to consider:
Arizona Western College
Eastern Arizona College
Arizona Automotive Institute
Mesa Community College
Mohave Community College
EVITT
Experience and Skills
Whether you decide to go through a training program or not, any prospective auto mechanic will need to start at an entry-level position working as an assistant or trainee. This process usually takes 2-5 years in order to gain the necessary level of expertise to become a highly qualified technician. The good part about this training time is that it gives you the opportunity to also pursue certifications which we'll take about next and usually take 1-2 years. Might as well hit two birds with one stone as it were.
During this time there is an unlimited opportunity for growth. Take advantage of the time by not only asking questions, observing, and gaining additional hands-on experience, but also by actively developing key skill sets. Auto Experts recommend developing the following:
Mechanical Know-How
Troubleshooting/Diagnosing
Organizational Skills
Communication Skills

Especially in Customer Service
Bonus Tip: Being an auto mechanic can be extremely labor intense. Therefore use this time to also build physical strength and endurance as well as improving your dexterity.
Getting Licensed and Certified
The first thing you need to do is pass all necessary state exams. Each state has its own requirements so be sure to thoroughly investigate what Arizona mandates. You will also need a specific certification in handling refrigerant.
While technically, you don't need further certifications than those, you will have a better career opportunity, not to mention salary, if you earn more certifications. The most common and looked for certificate in a new hire is the Automotive Service Excellence (ASE) certificate. There are nine different areas you can certify in. You can also opt for getting a Manufacturer-Specific certification if there is a particular kind of car you would like to work with. A great place to start is using that previously mentioned assistant time to get input on which certificates would be the most applicable and effective for where you aspire to go in your career.
Here at NARPRO we care about providing customers with the best auto mechanics. When you're ready to start a fun and gratifying career in the automotive industry consider working at one of our verified auto repair shops. We can't wait for you to join our teams of professionals!