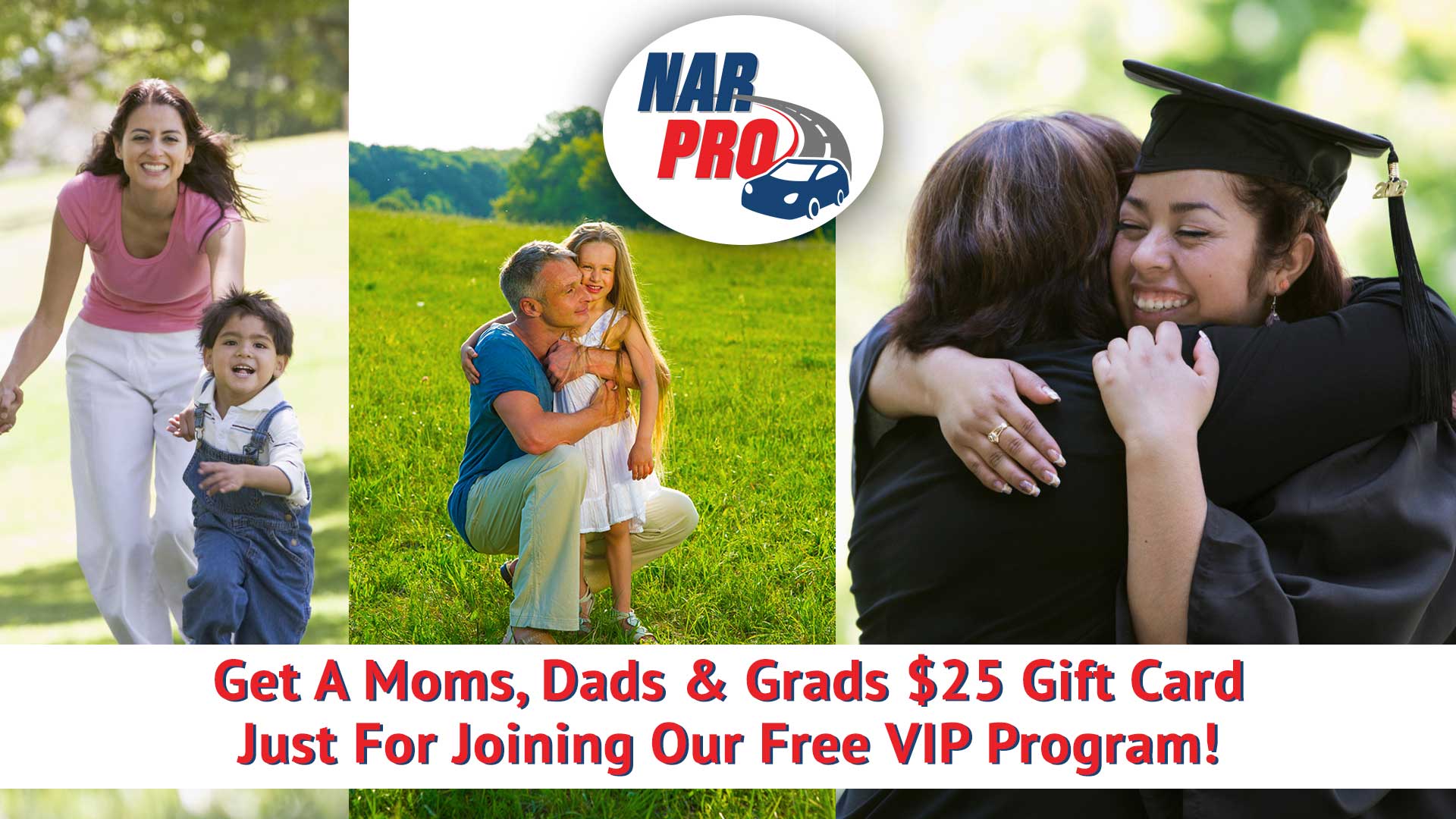 Send Some Love: VIP Card + TWO $25 Gift Cards! 
(Just need a card for yourself? Use the form at the bottom.)
Mother's Day, Father's Day, and Graduations are happening! Do you want to send some love to one of those candidates? Chances are, they have a vehicle and will need it serviced sometime soon. For the next couple of months, you have a unique opportunity to share your NARPRO experience with them and get a gift for yourself at the same time!
For a limited time only, sign up for a free VIP card and you will get TWO $25 NARPRO gift cards – one for you, and one for a friend! Simply provide us with the email address of the person you want to give the gift card to and we'll send it directly to them – simple and hassle-free! 
Each $25 gift card can be used toward ANY service at any NARPRO shop and there is no expiration date on the card. Who knew it would be so easy to send some love?
NARPRO VIP Card & Free $25 Gift Card
If you are NEW to NARPRO, just fill out the form below to download your free $25 Gift Card plus complimentary VIP Card! If you are an EXISTING NARPRO Member, you can also fill out the form for a friend! We will send them a gift card to be used towards ANY service at any NARPRO Shop. No expiration date on card. No minimum. Hurry this offer won't last for long!
Also, NARPRO VIP Card Members Automatically Receive:
Auto Repair & Maintenance
10% Discount on Labor for All Mechanical Repairs and Maintenance


(Excludes Auto Body Repairs – see shop for details)

Minimum 24 Month/24,000 Mile Warranty

on all new mechanical parts and labor performed.
(This is double the industry standard which is usually 12 months/12,000 miles – see shop for details)

A FREE Multi-Point Road Vehicle Inspection By Our Auto Repair Shops Upon Request


(up to a $95.00 value – see shop for details)