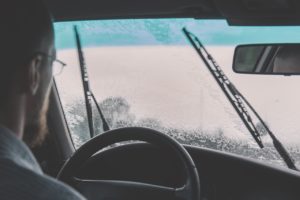 (PHOENIX)– From windshield wipers to tail lights, certain car checks are critical as we enter the monsoon season. Your Neighborhood Auto Professionals (NARPRO) are available to demonstrate and discuss the most important ways drivers can stay safe in any driving conditions.
Pre- monsoon checks:
Windshield wipers
Wiper blades often deteriorate faster in Arizona so it's important to inspect and replace now. Remember to check the rear window wiper blade.
Headlights, brake lights and signal lights
You may not notice a dim or non-functioning light from behind the wheel so ask a friend for help.
Headlights should be properly aimed. Misaimed lights can impact your ability to see and blind other drivers.
In many vehicles, taillights and brake lights share the same external covering. This is where a friend comes in handy. To test both lights, start by turning on the ignition switch (no need to start the engine). Turn on your headlights and check to see if the taillights came on at the same time. Then, tap your brakes and check that the brake light is brighter than the taillights. If not, the bulbs may need to be changed.
Make sure all lights are clean to ensure maximum visibility.
Rubber Molding
Check for leaks and cracks around the windshield, doors and cab. If water seeps it, it can lead to major electrical problems.
Tires
Your vehicle's tires affect handling, traction and safety in all driving conditions, so a five-minute pressure check is a smart investment.
Underinflated tires can lead to uneven wear and require quicker replacement. Correct pressure can improve gas mileage by three percent.
Try the penny test to check tread. Place a penny head first into several tread grooves. If the top of Lincoln's head is visible, your treads are shallow and tires need to be replaced. If part of Lincoln's head is always covered by tread, you probably don't need new tires. Use this opportunity to inspect tires and make sure they are free of nails or other objects that can affect their performance.
Uneven or accelerated tire wear can lead to an alignment problem where your car shakes or drifts to one side.
Regularly rotating tires promotes uniform wear.
Monsoon driving tips:
Drive with headlights on during rain to increase visibility.
 Slow down when roads are wet and create a safe distance between you and the cars ahead.
Avoid getting close to big vehicles like buses and semis. They can create a spray that hits your windshield and can make it harder to see.
Never cross a flooded road. Just a few inches of water can move a car, truck or SUV.
Driving through water can lead to catastrophic failure of your engine and/or transmission.
If you lose traction and it feels like your car is drifting or sliding, ease off the gas pedal. Do not hit the brakes. If you're drifting or sliding carefully turn your steering wheel in the same direction of your slide.
If you drove into water or your parking space became flooded have it towed ASAP Ask the driver to deliver the car without starting it so a mechanic can evaluate before turning the ignition.
If you entered water pay close attention as you drive out. Gently apply your brakes a few times at low speed. Does anything look, feel, sound or smell different? If in doubt, have a trusted mechanic check it out.
If you're caught in a dust storm, pull off the road as far as safely possible, place your car in park and turn off all lights, including headlines, emergency flashers and dome lights.  If you leave lights on, other drivers might follow and crash into your parked car because low-visibility affects depth perception.
Our trusted local repair shops can help you get prepared for vehicle safety in any driving conditions. Find a shop today!