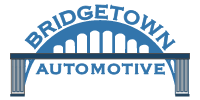 971-230-0740

8003 SE 17th Ave

Portland OR 97202-6716

M-F: 8:00am - 5:00pm
Sat: 8:00am-3:00pm
Trusted Auto Repair
About Bridgetown Automotive Repair
Bridgetown Automotive Service was founded by, Chris Ryser, an enterprising, innovative expert, in all things mechanical. Chris grew up on a farm learning how to fix all the tractors, trucks, and cars that were used on a daily basis to keep the farm running. Entrepreneurship ran in the family, except Chris was more interested in building a business outside of the 4th generational family farm. After graduating on scholarship from the Automotive Educational Service Program he went to work for a local dealership to continue his hands-on education, and eventually knew that he was destined to open his own shop.
In 1996 Chris and a partner opened an Auto Repair facility which started his journey into business ownership. By 2005 he left his partner, with a refined concept for providing the "higher level of customer care" that his customers deserve. In 2005 Chris and Kristine opened Bridgetown Automotive Repair. Delivering great customer care and continuous education about growing his company has made this team an outstanding small business in the Portland metro area. In 2006, he received the prestigious national Automotive Institute 'Shop of the Year' award.
Chris believes in treating all his customers, just as though they were family members; with respect, gratitude and a goal to exceed your expectation. This "You'll be Glad you came in to see us" attitude is present every time you visit us. For them, it's all about being of service to our customers and our community, making a difference in people's lives through solid and fair business practices, embracing a "customer-centric" attitude, and impacting our community in positive ways.
OUR SERVICE PROMISE:
We will serve each customer the way we would like to be served if we were the customer.
We will provide each customer with courteous and professional service.
We will provide clear and accurate estimates of repair to our customers.
We will perform no repairs without customer authorization.
We will perform each service and repair professionally with top-quality parts and materials.
We will report any vehicle safety or repair concerns observed during vehicle service to our customers.
We will prioritize recommended vehicle services and repairs to our customers in this order:

Safety
Progressive Damage
Recommended Maintenance.

We will not recommend services or repairs that are without benefit to our customers and their vehicles.
We will stand behind our work and honor all applicable warranties.
Why Choose Us
Local shuttle service / car rental
Estimates provided before work is started
24 month / 24,000 mile Nationwide warranty

FREE 30 point inspection with every service

Full Service Tire Center

FREE Pick-up and delivery

Repairs completed in a timely fashion
All technicians are trained and ASE certified

Here are some of the services that we offer:
So What Can NARPRO Shops Do For You?