In the Community
NARPRO is dedicated to helping our local communities!
As the premier collection of trusted local auto repair shops in the Phoenix, AZ area, we know that we have a duty to help our wonderful local communities thrive. Our network of automotive professionals are very active in each of their neighborhoods, participating in events, fundraisers, donations and more! We are always looking for more ways to get involved, so feel free to contact us today about any great events in the community, or check out our current community involvement below.
---
Safe Kids Maricopa County 22nd Annual Car Seat Event
Saturday, February 25th from 9:00 am until Noon, the Safe Kids Maricopa County 22nd Annual Car Seat Event is taking place in Mesa, Phoenix and Avondale. Certified child passenger safety technicians will be on hand working one-on-one with families to educate about car seat safety and to ensure that car seats are properly installed. Car crashes remain one of the leading causes of death in children and statistics show that car seats are used incorrectly up to 90 percent of the time. In addition to the car seat safety check, experts from NARPRO will be providing free vehicle safety checks as well. Come see us at the following locations:
WEST:
First Southern Baptist Church Avondale
1001 N Central Ave, Avondale, AZ 85323
CENTRAL:
Bethany Bible Church
6060 N 7th Ave, Phoenix, AZ 85013
EAST
Target Gilbert & Southern
1135 S. Gilbert Rd, Mesa AZ 85204
---
2016 Walk-N-Roll for Spina Bifida Association of AZ

The Walk-N-Roll for Spina Bifida will be hosting an event November 5th, 2016.
Any amount is appreciated! Donate at least $20.00, and we'll send you a $25.00 NARPRO gift card to be used at any participating NARPRO shop.
To donate and get your gift card, Click Here


---
Certified Local Fall Festival
The Certified Local Fall Festival is an annual celebration of all things local to Arizona.
The festival features 100+ vendors with some of Arizona's favorite local businesses, food samples from some of the best Arizona restaurants and food trucks, and a beverage garden. Local business vendors will be selling a variety of unique gifts and products, prices vary. Attendees will also be able to purchase raffle tickets and bid on silent auction items on site.
For More Information, Please Click Here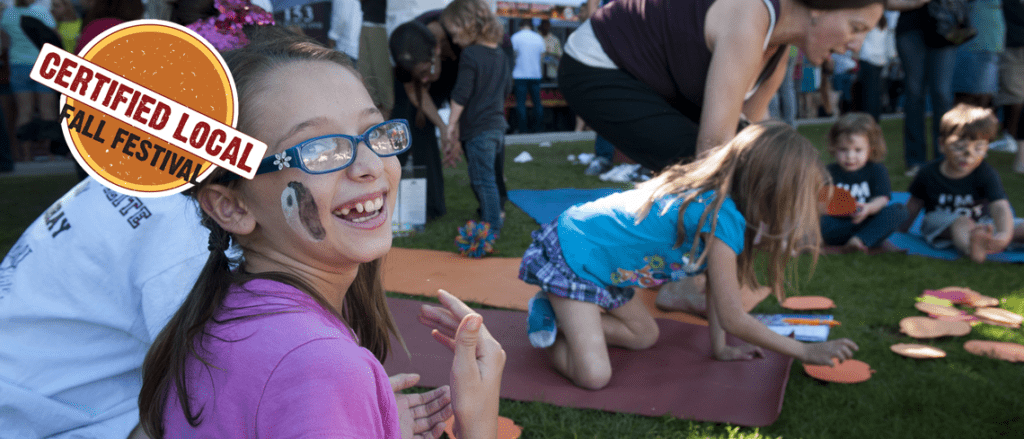 ---
Eddie Johnson & Friends ~ My Mom My Hero
Join NARPRO September 24th for the 3rd Annual "My Mom My Hero" Fundraiser Event.
Eddie Johnson & Friends presents an event that will provide attendees an inside view of professional athletes. The proceeds will benefit Helping Hands for Single Mothers, a local non-profit that assists low-income single mothers and their families while the mothers pursue college degrees and financial independence. Helping Hands has helped hundreds of single mothers and their families since 2002 and continues to make a difference in the community.
For More Information, Please Click Here
---
NARPRO's Good Works Auto Repair Partners with The Surprise Squad to make a HUGE Difference!
Once again a NARPRO member made headlines – and a local woman's day – with a car give away.
Good Works Auto Repair provided the car (through a very generous donation from Glen's mother) and all the inspections to make sure it is safe and reliable and Helping Hands for Single Moms provided the connection to Shauna, an exceptionally hardworking, dedicated mother of two beautiful children. We've never met anyone quite so determined and deserving of a little help from her friends. Congratulations for all you've accomplished, Shauna, and we wish you lots of happy miles in your new car!
---
NARPRO Member, Community Tire Pros Teams up with Arizona's Family The Surprise Squad!
With help from 3TV's Arizona's Family The Surprise Squad, Community Tire Pros surprised a valley mother with FREE auto repair!
Community Tire Pros provided front and rear brake replacement, new struts and shocks, two new tires and repaired the vehicle's air conditioning – but they didn't stop there! Among many other repairs to Rosemary's vehicle, Community Tire Pros presented her with a $200 Gift Certificate for car detail at Los Olivos Car Wash.
---
8th Annual Car Seat Recycling Event
Help keep our planet neat by recycling your car seat on Friday, April 22nd – from 8am until noon – at the Phoenix Fire Station on Baseline and 42nd Pl. in Phoenix. Cant make it out on the 22nd? You can drop off your car seat at any of the participating drop-off locations from April 11th through the 18th.
For more information or to view the participating drop-off locations, Click Here
---
Safe Kids Maricopa County Hosts 21st Annual FREE Car Seat Event at 4 Locations
From Goodyear to Mesa, certified child passenger safety technicians will work one-on-one with families to educate and offer peace of mind during the Safe Kids Maricopa County (SKMC) 21st annual Car Seat Event on Feb. 27th.
According to the Maricopa County Department of Public Health, car seats are used incorrectly up to 90 percent of the time. According to the Arizona Department of Transportation, children 14 and younger accounted for 44 fatalities and 3,631 injuries in motor vehicle crashes in 2012.
Click Here to read more.
---
NARPRO & Helping Hands For Single Moms Team Up to Help A Mom in Need
Congratulations to Tysa, our winner for the Helping Hands For Single Moms August Car Give Away!
NARPRO and Helping Hands for Single Moms – a scholarship program that helps low income, single moms obtain their college degree – were delighted to present Tysa with a "brand new", fully restored 1999 Dodge Caravan during the month of August! Thank you to all who entered and a special Congratulation to Tysa!! Enjoy your new Caravan!
---
FREE Brake Pads in Honor of Brake Safety Month
In honor of Brake Safety Awarness Month, NARPRO is giving away free brake pads!
August is Brake Safety Awareness Month and some participating NARPRO shops are giving customers FREE Brake Pads (valued at up to $80) when they schedule a brake inspection between Aug 1st – Aug 31st – just pay for labor and any other necessary parts! In addition to getting your brake pads for free, 10% of the proceeds from your brake service will be donated to Breast Cancer Vaccine Research. Click Here to learn more and to schedule your brake inspection.
---
Great Gifts for Dads & Grads!
NARPRO is offering a unique gift idea for the dad or grad in your life.
This Father's Day, save dad time and money on his vehicle care by giving him a free standard oil change and filter. Or, for that special graduation gift, give your grad the gift of peace of mind when they know they can rely on a quality, local repair shop near their work or home.
Sign the special person in your life up for a free VIP Card Click Here and enter DAD or GRAD in promo code and we'll send them a card for a FREE oil change too.
Up to 5 quarts of conventional oil, plus filter. Valued at $35. Card can also be used to take $35 off a synthetic or larger quantity oil service, taxes and additional fees not included.
No expiration date on card.
Sign up to get free oil change NOW until June 21, 2015. New Customers Only.
---
Support Our Troops With Packages From Home
As we move toward the holidays we can't help but to be thankful for our families and our blessings. Some families won't be together this holiday season, as our nation still has men and women in the armed forces serving overseas. Through the rest of November and the entire month of December, we will be supporting our troops through the Packages From Home program. In order to participate, simply print out the coupon below and bring it in to any of our NARPRO shops along with one or more of the ten items listed. Not only will you be helping out our active military personnel overseas, but you will also receive 10% OFF LABOR for ANY Auto Repair Service.
Please PRINT the coupon below and bring to it any local NARPRO shop for your discount.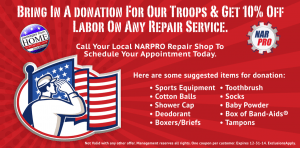 ---
Brakes for Breasts – Free Brake Pads in October!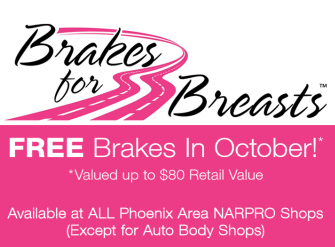 Do you need new brake pads in your car? Would you like those brake pads for FREE? Would you also like to help breast cancer research in the process? Then this October, stop by any of the participating NARPRO auto repair shops in Phoenix! We are partnering with Brakes for Breasts to help raise money for the Cleveland Breast Cancer Vaccine Research Fund by performing free brake inspections and installing free brake pads (valued up to $80)!

Here's how it works:
1. Click Here to find your local NARPRO shop and request to schedule your free brake inspection between October 1-31, 2014.
2. Your participating Brakes for Breasts Auto Shop will provide FREE brake pads (valued up to $80) to you during the month of October. You pay for labor and other necessary parts.
3. Your participating Brakes for Breasts Auto Shop will donate 10% of your service repair costs directly to the Breast Cancer Vaccine Fund. Help us to reach Arizona's goal of $50,000!
Learn more about the Breast Cancer Vaccine
Watch these videos to learn more about the Breast Cancer Vaccine as well as an incredible look at worn out car brakes. If you don't need brake services but would like to make a donation towards this great cause, Click Here to be connected directly to the Cleveland Clinic's giving page.